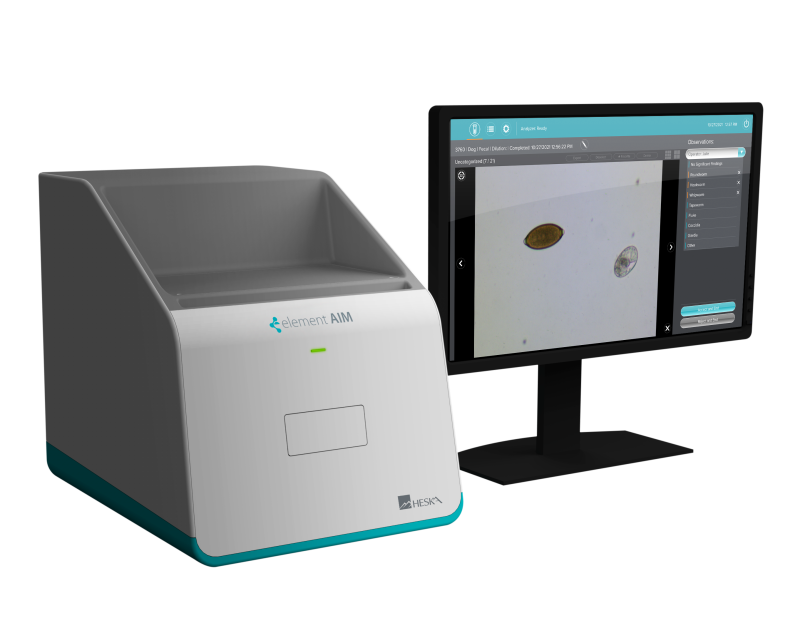 Element AIM
Automated Artificial Intelligence Microscopy
The world's ONLY fully automated Fecal and Urine Point-of-Care Lab.
Superior Lab Quality Optics

Crystal clear images in just minutes. Easily store in medical records and share with clients and specialists.

Fast and Sanitary

Eliminate the mess and smell of handling slides and cover slips with sanitary cartridge.

Automated Ease-of-Use

Remove user error and wasted time at the microscope and during sample prep.
Lower Test Prices

Affordable in-clinic fecal and urine automation for every clinic.

Free Analyzer and Warranty

Get the Element AIM free with Heska's Reset Subscription program.

Load and Go

Image feces and urine to find important cells, bacteria, crystals, casts, and parasites, including roundworm, hookworm, tapeworm, whipworm, giardia, and more.
Stop overpaying for in-clinic blood testing and analysis.
Heska's Reset program provides veterinarians with accurate, better and faster blood testing and analysis up to 40% less cost than with other competitive in-house diagnostic laboratory services.
The number one 2-in-1 solution to analyze #1 and #2... in minutes.
Technical Details & Downloads
Element AIM™ was invented by Heska…
Heska invented the Element AIM™ to automate urine sediment and fecal flotation with state of the art optics and ground breaking
artificial intelligence for confident diagnosis in minutes. Element AIM finds important cells, bacteria, crystals, and parasites, including
roundworm, hookworm, tapeworm, whipworm, giardia, and more. No more fussing with slides and coverslips! Sealed test cartridges
eliminate mess and reduce zoonotic exposure. Get results before sample quality degrades and before the patient leaves the office.
Heska's Element AIM Automated Artificial Intelligence Microscopy Analyzer System is used to perform urine sediment and fecal flotation analysis on canine and feline urine and fecal samples. Leveraging a unique and proprietary cartridge design, customized onboard centrifuge, state-of-the-art nanopositioning precision motion system, premium quality optical components, and high-powered computational analytics, the AIM dynamically captures microscopic images which are then categorized using artificial intelligence to identify specific objects of interest.
The Element AIM Fecal Prep Kit makes the process even easier.
Heska Support Teams are Here for You
We're Available When You Need Us
Rest assured that when you need help, have questions, or have difficulties, we have you covered.