Reset
Accurate in-house diagnostics. No up front capital spend.
(Not Available in Quebec)
Free Analyzer Use

Accurate, better and faster blood testing and analysis with best-in-class in-house lab analyzers

Free Warranty

Your warranty is covered so you never worry or deal with unexpected expenses

Lowest Test Prices

Stop overpaying for your lab when you can save around 40%
Price Protection

No unexpected price hikes when prices are contracted to increase no more than 4% per year

Incredible Average Savings

Invest back into your practice, increase owner compliance, positively impact your bottom line

Product Upgrades

Always have the option to upgrade to the latest and greatest equipment as Heska's product line advances
Stop overpaying for in-clinic blood testing and analysis.
Heska's Reset program provides veterinarians with accurate, better and faster blood testing and analysis up to 40% less cost than with other competitive in-house diagnostic laboratory services.
"Reset" how you think about your in-house lab.
No Upfront Capital Outlay
No need to buy outright or deal with leasing companies.
Up to Date Equipment
Keep your in-house lab current with the ability to upgrade analyzers at any time.
Transparent Pricing
Clear pricing and price protection through your term means you know your consumable cost 6 years out.
Peace Of Mind
Always get a replacement analyzer when you need it and avoid spending thousands on repairs with a warranty that is completely covered.
Pet Owner Compliance
Lowest test pricing in the industry gives you flexibility pushing clients towards compliance.
Comprehensive Test Menu
Chemistry, hematology, blood gas, immunoassay, coagulation and other specialty tests and more are available with the Element Series of in-house lab analyzers.
Technical Details & Downloads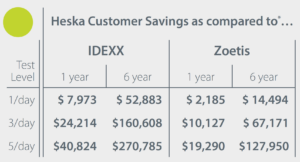 Customer Savings Data (based on 2021 pricing and 20 working days per month)
Test level 1/day assumes a daily average of 1 comprehensive panel plus electrolytes, 1 presurgical panel and 1 CBC.
Test level 3/day assumes a daily average of 3 comprehensive panels plus electrolytes, 3 presurgical panels and 3 CBCs.
Test level 5/day assumes a daily average of 5 comprehensive panels plus electrolytes, 5 presurgical panels and 5 CBCs.
Heska Support Teams are Here for You
We're Available When You Need Us
Rest assured that when you need help, have questions, or have difficulties, we have you covered.