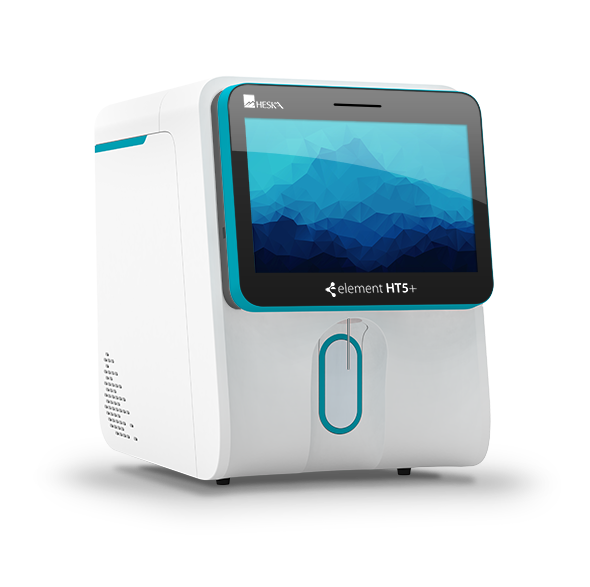 Element HT5+®
Veterinary Hematology Analyzer
True 5-Part WBC Differential PLUS Reticulocytes
Advanced Technology

3rd generation dye technology for more reliable reticulocyte detection.

Easy Reagent Management

Refill reagents with ease using RFID technology and on-board menu functions.

Simple Data Management

Rapidly retrieve trending data from patient record.
Easy to Use

Web-style links for simple navigation.

Convenient Abnormal Results Flags

Flags for abnormal cell morphology & populations including immature granulocytes, nucleated red blood cells, platelet clumps and more.

Efficient

Quickly evaluate patient data with species-specific reference ranges and colour-coded flags.
Stop overpaying for in-clinic blood testing and analysis.
Heska's Reset program provides veterinarians with accurate, better and faster blood testing and analysis up to 40% less cost than with other competitive in-house diagnostic laboratory services.
True 5-part differential plus reticulocytes...with results in only 90 seconds.
The Element HT5+ detects not only white cell volume, but cellular complexity and granularity as well.
Results in 90 seconds
Fast results can be combined using HeskaView Connect, or transmission to PIMS.
Consolidated Reporting
Rapidly retrieve patient worklist with bi-directional communication.
Intuitive Navigation
Simplified data entry and patient test review with numeric results, histrograms and scatter plots.
Technical Details & Downloads
Combine best-in-class technology with a sleek, intuitive platform to bring you a fast, comprehensive, and accurate complete blood count.
Advanced Heska Element HT5+® technology provides an accurate and comprehensive CBC (Complete Blood Count) with a true 5-part differential, including reticulocyte parameters. Get results you can trust in 90 seconds, presented in a sleek designed intuitive color touchscreen interface. The Element HT5+ not only detects white blood cell volume, but cellular complexity and granularity as well. In addition to being accurate and fast, the Element HT5+ remains very simple to use with intuitive navigation, simplified data entry and easy reagent management. Complete CBC fast enough for the busiest clinics.
The Element HT5+ Hematology Analyzer supports your diagnostic needs with:
Industry-Leading Combination Technology

5-Part WBC Differential PLUS Reticulocyte Parameters

Flags for abnormal cell morphology and populations

Graphical interpretations of cell size, granularity, and complexity

Intuitive Touchscreen Interface

Results in 90 Seconds
Best-in-Class Combination Technology:
Laser Flow Cytometry

3

rd

Generation Dye Technology

Electrical Impedance

Colourimetry
Convenient Workflow:
Simple to use

Intuitive design

Results fast enough for the busiest clinic
Dimensions:
Instructions for Control File Download:
Right click on the control file.
Click on Save Link As…or Save Target As…depending on your browser.
Save to USB drive and then upload to Analyzer.
Control Lot BC2305B, exp 07/10/2023
Normal-Control
Assay Sheet PDF
Tri-Level-Controls
Heska Support Teams are Here for You
We're Available When You Need Us
Rest assured that when you need help, have questions, or have difficulties, we have you covered.