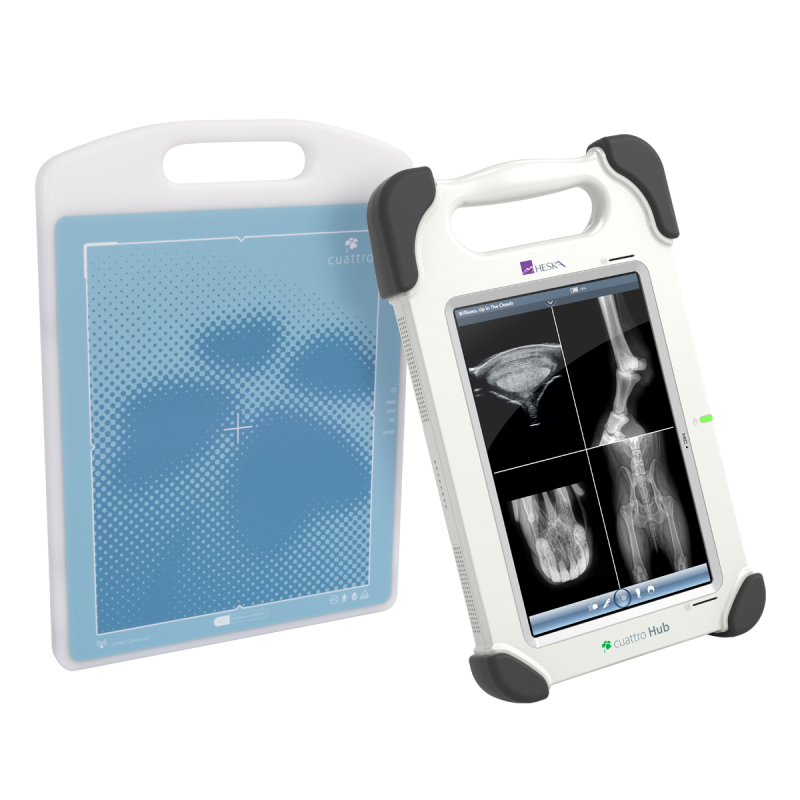 Cuattro Hub
Portable Imaging Center for Your Equine Practice
Multiple exclusive diagnostic modalities, endless possibilities.
Highest Resolution Digital Radiographs

Produces equine digital radiographs faster and more reliably.

Multiple Modalities

Switch between wireless ultrasound, full-body digital X-ray and dental digital X-ray with this fully portable diagnostic imaging center that does it all.

One Patient Medical Record

Store images to patient's universal record, unifying patient data for easy retrieval and review.
Truly Portable and Wireless

Battery operated for patient side imaging diagnostics when and where you need them.

Beautiful Touchscreen

Easily go between ultrasound, dental DR and large format DR modalities, study review, patient record management and cloud archival options.

Space, Time and Money Saved

Designed for the way you work, the Cuattro Hub creates efficiency in workflow with multiple modality options that allow for more diagnostics.
Stop overpaying for in-clinic blood testing and analysis.
Heska's Reset program provides veterinarians with accurate, better and faster blood testing and analysis up to 40% less cost than with other competitive in-house diagnostic laboratory services.
Designed for the Way You Work
Large Format Digital Radiography
The worlds finest and fastest full-body equine DR solution, with InstaView™ , RapidShotX™ and OmniLock™ technology.
Intraoral Dental Digital Radiography
World's first & only equine-sized dental DR solution, producing perfect intraoral DR views for instant images.
Wireless Digital Ultrasound
SonoPod wireless HD ultrasound producing crystal clear images without wires, chargers, double data entry or setup.
Power In Your Hand
See tendons, ligaments, joints, guided injections, eyes, small parts, lungs and more with ease.
Immediate Retakes
No waiting to determine if retakes are necessary. Take, retake, reposition, store and share in minutes.
Cloud Archival
Store images immediately to the cloud for instant access anywhere they are needed.
Technical Details & Downloads
One device with multiple modalities and high definition images to complete your diagnostic needs…all in one system.
SonoPod: Wireless Digital Ultrasound
The most efficient wireless HD ultrasound solution for any need, in any environment. Whether as part of a pre-purchase exam, lameness workup, or on the fly field checkup, Sono Pod delivers ease of use and enhanced patient and user safety with HD Wireless technology.
Get an instant visual of patient health with crystal clear images of…
tendons
ligaments
lungs (lesions, pneumonia, consolidations)
ocular anatomy
visual needle insertion
joint space
biopsy
testes
masses
abcesses
foreign bodies
injuries
Denti Pod: The world's first and only equine sized dental digital radiography solution.
Producing perfect intraoral DR views for instant images, immediate retakes, proper positioning, and remarkable image quality that can be viewed, stored, and shared on Cuattro Hub. The perfect addition to grow and differentiate your equine practice.
Sono Pod Technical Details
Up to 3 hours continuous scanning and 12 hours standby!
Small (78 x 229 x 38 mm) and lightweight (just over 10 oz)
Easily interchangeable/rechargeable battery
Instantly switch between Sono Pod Ultrasound and Digital X-ray modes
Multi Frequency 5MHz/7.5MHz/10MHz
Incredible resolution, detail, frame rate
40mm linear field of view
Maximum depth 10cm
Heska Support Teams are Here for You
We're Available When You Need Us
Rest assured that when you need help, have questions, or have difficulties, we have you covered.