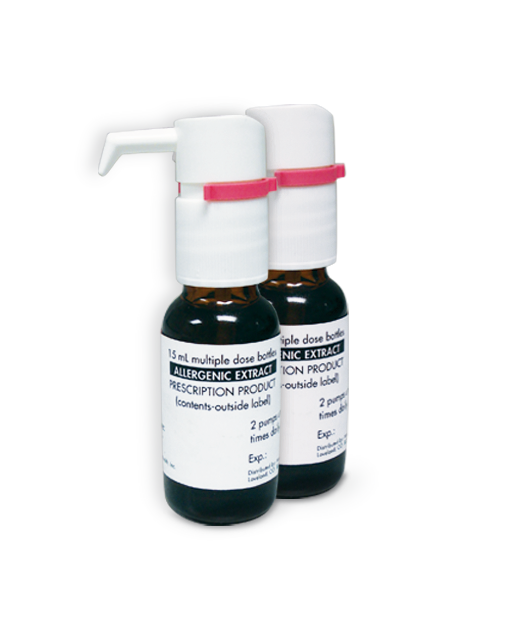 ALLERCEPT® Drops
Sublingual Immunotherapy
A palatable allergy treatment solution delivered under the tongue.
An Important and Safe Option

Effective in treating pets that failed to respond to allergy shots, or who have had prior anaphylactic reaction to allergy shots.

Simple and Easy to Administer Dosing

Two pumps under the tongue twice per day using a uniquely-designed dispensing pump makes it easy to administer by the pet owner at home.

Convenient

Room temperature storage.
Safe, Long-Term Treatment

None of the side effects and complications commonly associated with continuous, longterm corticosteroid treatment.

Patient Specific Recommendations

Regionalized immunotherapy recommendations with total case management consultation.

Fast Results From Simple Blood Draw

Easy-to-Read results summary within 48 hours of receiving sample.
Stop overpaying for in-clinic blood testing and analysis.
Heska's Reset program provides veterinarians with accurate, better and faster blood testing and analysis up to 40% less cost than with other competitive in-house diagnostic laboratory services.
A series of specially-formulated treatment extracts in gradually increasing strengths.
ALLERCEPT Therapy Drops are a palatable solution delivered in tiny amounts under the pet's tongue.
Easy to Administer
Uniquely-designed dispensing pump makes it easy to administer by the pet owner at home, with two pumps under the tongue.
Precise Prescriptions
Precise testing virtually eliminates exposure to (and expense of) unnecessary allergens.
World Class Support
From easy-to-read and interpret test results to free consultations, Heska's staff of professionals is here to help.
Highest Standards in Quality Control Protocols
Two fully functioning QC laboratories ensure all manufactured products comply with requirements.
Responsive Treatment
Average positive patient response within 3-6 months.
Effective Relief
ALLERCEPT Subcutaneous Immunotherapy is successful in 60% of patients.
Technical Details & Downloads
ALLERCEPT® Immunotherapy Treatments
Formulations are based on ALLERCEPT test results, the clinical history of the allergic animal, and geographical region. While every animal responds differently , most animals respond positively with relief in 3-6 months. Read about Bernie's case. Effective immunotherapy can be sustained safely throughout the life of the animal.
Along with ALLERCEPT Therapy Shots, Therapy Drops move immunotherapy from a last resort to the first choice for treating allergies. Watch this video about how to administer ALLERCEPT Drops.
The Gold Standard in Allergy Technology
Heska is a world leader in innovative solutions for veterinary allergic disease holding many patents covering its allergy products. Heska's unique, patented ALLERCEPT® program technology can detect as little as 10 picograms (trillionths of a gram) of allergen-specific IgE and can be used alone or in conjunction with conventional intradermal skin testing to accurately identify the source or sources of an allergic reaction. Unlike many other serum IgE tests that can mis-identify allergy sensitization based on the false-positive detection of allergen-specific IgG, Heska's use of the high-affinity IgE receptor assures that false positives resulting from IgG detection do not occur.
Heska has patent rights for use of the high-affinity IgE receptor to measure allergen-specific IgE in the serum of both animals and humans. Heska's ALLERCEPT Panels are validated for dogs, cats and horses. The simplicity of ALLERCEPT tests and treatment enables veterinarians in general practice to develop a core allergy practice, ensuring that many more allergic pets can be treated or referred to dermatology specialists.
Heska Support Teams are Here for You
We're Available When You Need Us
Rest assured that when you need help, have questions, or have difficulties, we have you covered.
Available 6:00am – 5:00pm MST Daily
Emergency Support During Off-Hours
Case Consultations or Product Usage Help