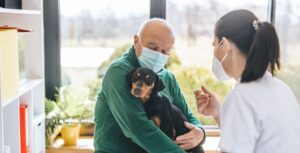 Whilst the demand for veterinary care has increased, staffing shortages have ravaged the veterinary field. New clients have been turned away; emergency cases have been unable to receive timely treatment. As the pandemic rages on, professionals across the field contemplate how to adjust to the new normal.
A culmination of factors has led to where the veterinary industry finds itself today. An increase in pet adoptions—of up to 70% in some areas—has led to an unprecedented increase in demand for veterinary care. Unfortunately, the field can't seem to keep up. The Canadian Veterinary Medical Association (CVMA) notes the need to increase the number of graduating veterinarians by 3.5 to 4%. Meanwhile, according to the American Veterinary Medical Association (AVMA), veterinarians currently practicing have found themselves less productive than in previous years, with productivity decreasing by 25% from 2019 to 2020. Complaints to the College of Veterinarians of Ontario have increased by 40% in the past year. Pandemic driven workflow changes and policies have impacted veterinary services, and hospitals around the world are struggling to catch up.
Employee turnover in the field is high. According to the AVMA, "veterinary technicians have one of the highest turnovers of all health care positions compared," and the turnover rate for veterinarians is twice that of physicians. A 2020 CVMA study found that "one in five [veterinary] clinics had scaled back hours of operation due to a shortage of veterinarians to fill shifts." Compassion fatigue, coupled with pandemic stress, burnout, and inadequate pay, has left many veterinary professionals with no other option but to leave the field.
So, is all hope lost? Thankfully, no. Although things may look bleak, the amount of veterinarians entering the workforce should increase by 17% in the next ten years, according to the U.S. Bureau of Labor Statistics. In Canada, where veterinary students are considered amongst the most expensive to train, a few options are being weighed to increase the ranks, including more specialization, higher pay, and more flexibility in hours. Additionally, veterinary professionals are branching into the realm of telemedicine, offering new opportunities for innovation in the field.
The pandemic has caused waves amongst various industries, and the veterinary field is no exception. Facilities currently experiencing a staffing shortage should, if at all feasible, assess their current practices and evaluate if there is room for higher pay, flexibility, and support for staff who may be experiencing compassion fatigue or burnout. It is the support of a tight knit, caring veterinary team that allows for success in such tumultuous times.
---
References
Salois, M., & Golab, G. (2021, August 25). Are we in a veterinary workforce crisis? American Veterinary Medical Association. Retrieved October 31, 2021, from https://www.avma.org/javma-news/2021-09-15/are-we-veterinary-workforce-crisis.
Sharkey, J. (2021, September 14). The pandemic puppy craze is creating a veterinary crisis in Ontario | CBC news. CBC News. Retrieved
October 31, 2021, from https://www.cbc.ca/news/canada/kitchener-waterloo/vet-shortage-veterinary-pandemic-puppy-1.6159143.
Snyder, A. (2021, June 20). Covid-19 pandemic magnifies workforce crisis in veterinary field. CNN. Retrieved October 31, 2021, from https://www.cnn.com/2021/06/20/us/vet-tech-shortage-burnout/index.html.
Sokic, N. (2021, September 14). Hot job! Shortage of veterinarians expected to last for years as pet ownership increases. Financial Post.
Retrieved October 31, 2021, from https://fi nancialpost.com/fp-work/hot-job-shortage-of-veterinarians-expected-to-last-for-years-as-petownership-increases.
Touhey, A. (2021, October 11). Veterinary staffing shortage creates problems for both pet owners and offices. WKBW. Retrieved October 31,
2021, from https://www.wkbw.com/news/local-news/veterinary-staffi ng-shortage-creates-problems-for-both-pet-owners-and-offices.