Sue Ettinger, DVM, Diplomate ACVIM (Oncology)
With over 20 years of experience in veterinary oncology, Dr. Sue Ettinger, also known as Dr. Sue Cancer Vet®, is a widely recognized and respected authority in her field. She leads a thriving oncology service at Guardian Veterinary Specialists located in Brewster, New York and is one of only 450 board-certified specialists in medical oncology in North America. Dr. Ettinger completed her residency in medical oncology at the prestigious Animal Medical Center in New York City and has been honored with numerous awards, including the 2019 Western Veterinary Conference Small Animal Continuing Educator of the Year. She is also a sought-after international speaker, a book author, and engaging YouTube vlogger.

In addition to her professional achievements, Dr. Sue is passionate about raising cancer awareness and promoting early detection through her "See Something, Do Something, Why Wait? Aspirate.®" campaign. She has a strong social media presence, with over 45,000 followers on Facebook and 22,000+ on Instagram, where she shares valuable resources and support for pet owners and veterinary professionals.

Outside of her work in veterinary medicine, Dr. Sue is a proud mother to two teenage boys and shares her home with two fun-loving Labradors, Penelope and Matilda. In her free time, she enjoys running, traveling and exploring new places, and relaxing on exotic beaches.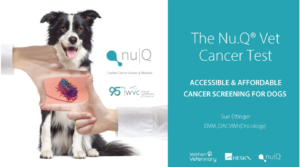 Watch as Dr. Sue Ettinger DVM, DACVIM (Oncology) covers challenges and unmet needs in the diagnosis of canine cancer, including an exciting new canine cancer screening test.