Heather Chalmers, DVM, PhD, DACVR
About Heather Chalmers, DVM, PhD, DACVR, Associate Professor of Radiology, OVC Dr. Chalmers is a radiologist at the Ontario Veterinary College with a special interest in radiation safety. Her current graduate student, Dr. Monica Jensen, is conducting a survey of Ontario veterinary professionals to gain a better understanding of their current safety practices. Look for us at the scil booth #603 in the exhibitors hall at the OVMA Conference!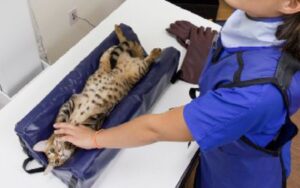 Time, Distance, and Shielding, and committing to an Attitude where personnel safety comes first, are important steps to ensure a healthy practice environment for all when it comes to radiation safety.