Dr. Nick Kleider
Dr. Nick Kleider's interest in horses and sports medicine related problems grew out of his own competitive experiences with sport horses. Nick grew up with horses and developed a major interest in eventing which culminated being long listed for the Canadian Equestrian team in 1974. Since then, he has trained and competed multiple horses up to intermediate and advanced levels and competed internationally. In 2014, he was the Horse Trials British Columbia's preliminary champion on Garrow's Law.
Instinct and intuition, honed by nearly four decades working with race and sport horses, enables Nick to evaluate many subtle performance issues and take on a variety of locomotor puzzles. Academic curiosity and the drive to challenge himself has cultivated an interest in diagnostic imaging and he became the first veterinarian in Canada to receive internationally recognized ISELP certification in 2012.
In 2013, Nick documented a technique for how to inject the stifle joint using ultrasound guidance and published the paper that was presented at the American Association of Equine Practitioners conference in Nashville, Tennessee. Always furthering his education, he frequently attends international conferences and workshops as well as often being invited as a guest speaker.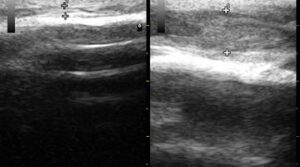 Modern day ultrasonography has changed the way we practice. Read about Dr. Klieder's observations about changes in the assessment of musculoskeletal problems over time.