Amanda Eick Schwarzwalder, CVPM, RVT, KPA CTP, VTS (Behavior)
As a veterinary technician unicorn in the field for over 25 years, Amanda has spent the last 14 years at The Behavior Clinic working as a Veterinary Behavior Technician and Practice Manager. She is a graduate of the AAHA Distance Education Program, holds degrees from Ashland University, is a VTS in Behavior, and Certified Veterinary Practice Manager. In addition to the other alphabet soup credentials she holds, Amanda holds a profound love for coaching technicians to achieve their VTS in Behavior and watching veterinary team members grow. When not at the office, Amanda can be found in her garden filling in holes dug by her German Shorthaired Pointer, Moose, attempting to read through cats who lay on books, traveling with her husband Scott, and bird watching.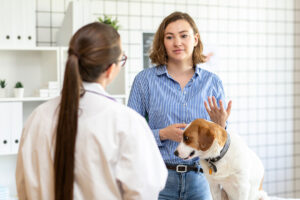 Assuage your fears and plan for tricky canine and feline behavior cases in this webinar.